Used Electric Vehicles
There is no BC sales tax on the purchase of a used electric vehicle provided that vehicle has been driven at least 6,000 km..
Applewood Nissan and Westwood Honda specialize in used electric vehicles. There is a comprehensive listing of used vehicles available at local and regional dealers as well as private sales at autotrader.ca.
While used electric vehicles going back to 2011 are available, the cost/benefit sweet spot is 2015 - 2017 models in the $20,000 - $25,000 range, particularly the Nissan Leaf, Kia Soul EV and BMW i3. Other 2015 - 2017 electric vehicles have generally been less reliable.
Be cautious when purchasing a model that was sold in the U.S., but not in Canada, and then a used vehicle was imported into Canada from the U.S. Servicing may be a problem.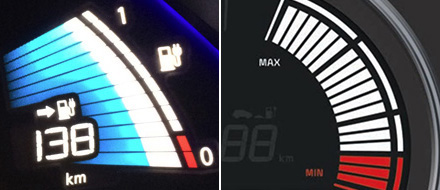 The battery guages shown above of the Leaf (left) and Soul EV (right) show the battery capacity. When the vehicle is fully charged, all of the battery bars should be lit. If some of the bars at the top are not lit, then the battery capacity has been reduced and the range is correspondingly less.

Make sure the vehicle has a level 3 fast charging port as shown above on the left for the Leaf (level 2 charging port on the right). This was optional on some 2015 - 2017 models. It should also be capable of 6.6 kW or 7.4 kW level 2 charging. Some models only have 3.3 kW charging which doubles the required charge time. In the Nissan Leaf, availability of these features varies for the S base model and SV mid-level model as shown below. They are always standard for the top level SL model.
Further information on factors affecting range as well as operating cost, home charging, the electric driving experience and environmental benefits can be found on our Detailed Information page.
Dealers
Detailed Information
New Vehicles
Used Electric Vehicles
Listed alphabetically. Although every effort has been made to provide accurate data, there is no liability for errors that may occur. Information important to you should be verified with other sources.
Vehicle
Battery Size
Level 3 Charge Port
6.6 / 7.4 kW Charger
Electric Range
Total Range

BMW i3 (2015 - 2016)
22 kWh
Standard
Standard
130 km
130 km

BMW i3 (2015 - 2016)
with range extender gas engine
22 kWh
Standard
Standard
116 km
241 km

BMW i3 (2017)
33 kWh
Standard
Standard
184 km
184 km

BMW i3 (2017)
with range extender gas engine
33 kWh
Standard
Standard
156 km
290 km

Kia Soul EV (2015 - 2017)
30.5 kWh
Standard
Standard
150 km
150 km

Nissan Leaf (2015)
24 kWh
S = Optional
SV = Optional
SL = Standard
S = Optional
SV = Standard
SL = Standard
135 km
135 km

Nissan Leaf (2016)
S = 24 kWh
SV = 30 kWh
SL = 30 kWh
S = Optional
SV = Standard
SL = Standard
S = Optional
SV = Standard
SL = Standard
S = 135 km
SV = 172 km
SV = 172 km
S = 135 km
SV = 172 km
SV = 172 km

Nissan Leaf (2017)
30 kWh
S = Optional
SV = Standard
SL = Standard
S = Optional
SV = Standard
SL = Standard
172 km
172 km